Blog
/
6 tips to help you find internship housing in Amsterdam
6 tips to help you find internship housing in Amsterdam
Considering doing an internship in Amsterdam? You'll need a place to stay! Here are our top tips on securing student internship housing in the city.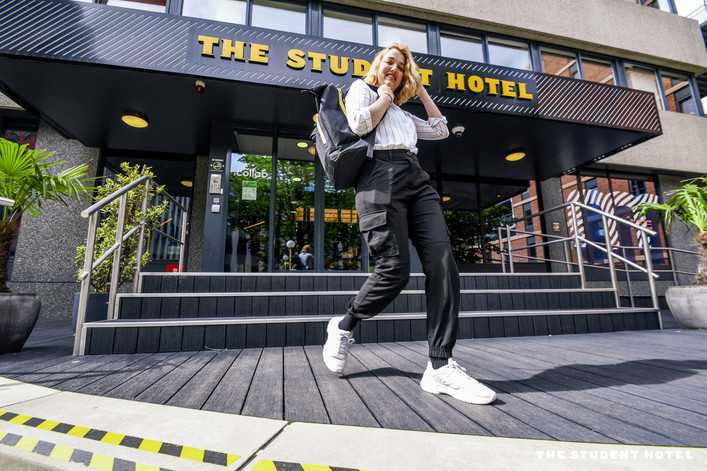 With a vibrant, creative community, incredible culture, flexible working life and some of the world's top companies calling it home, Amsterdam is a great place to complete an internship. Because of this appeal, it can also be a bit competitive, especially when it comes to securing internship housing. Luckily, we've done the groundwork for you!
So, whether you're considering Amsterdam as a place to complete a summer internship, or you have some work lined up and need some student housing options, here's everything you need to know about looking for a place to live and settling into life in Amsterdam – from students who have done it themselves!
1. Start your house-hunt early
With so much to offer in terms of culture and career opportunities, not to mention being such a safe place to live, it's no wonder Amsterdam is in high demand among students (and working professionals, for that matter!). The student housing market can be competitive, so it's worth starting your internship housing search at least two months in advance. Search rental websites and start contacting local real estate agents, who can help you in your search and line up appointments on your behalf. This way you can hit the ground running once you arrive.
2. Choose your area
If you're new to Amsterdam it can be daunting narrowing down the best area to live. Luckily, the city is compact, well connected, and safe, making the house-hunting process a little easier. You may have heard that it's best to live within 'The Ring', which is the historic central district of Amsterdam and a popular choice for visiting students who want to stay central, but it's also worth noting that it's the most expensive area in the city.

The best way to find your future home is to consider three factors: your budget, your 'must-haves' in student housing, and the location of your company offices. More on each of these below.