Blog
/
Amsterdam's best kept secrets
Amsterdam's best kept secrets
Creativity & Culture
Travel & Exploration
Didn't you hear? Perfection is out for 2023. Let go of that picture-perfect table setting and the polished candid laughing pose, we're here for the real deal. This is a travel guide of the undiscovered, underrated and unknown.
A small but mighty city, Amsterdam has a character like no other. Open-minded and liberal, yet structured and direct, this town really commits to enjoying the good things in life.

Known for its canals and aesthetically pleasing houses, multitude of museums a number of cultural attractions to visit, it's an easy and enjoyable place to be a tourist. But if you'd like to slink in and rub shoulders with the locals, have unique experiences and take a detour off the beaten track, then let us uncover the hidden gems for you.

Read more about the unusual and unique things to do in Amsterdam and discover the hidden gems you wouldn't have found otherwise. And for the extra juicy bits? Download the full version of the guide, complete with directions and a curated playlist to really set the tone of your trip.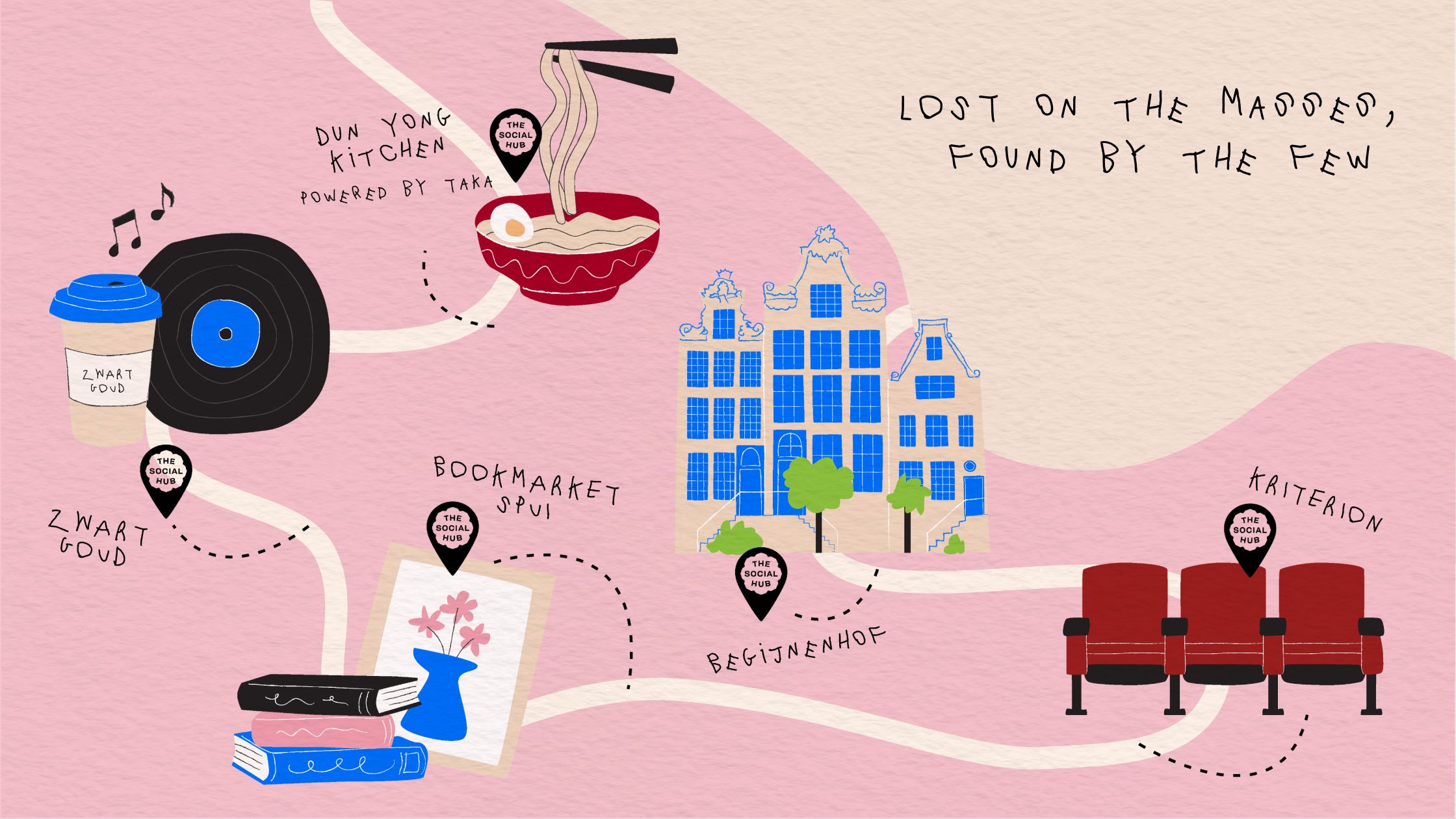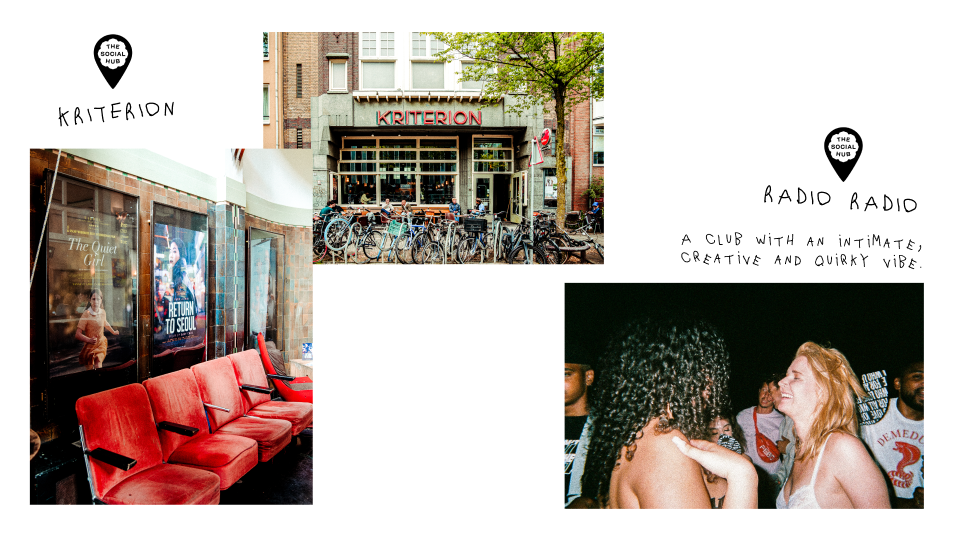 Party with the locals
With a variety of music venues in terms of size and style, Amsterdam has a stage for every type of artist and their loyal fans. From intimate gigs at Bitterzoet, to legendary performances at Paradiso, and undiscovered (experimental) talents gaining recognition at Cinetol, you can be sweetly serenaded, emotionally moved and thrown around a mosh pit all in the same weekend.
Turn up the volume and dance till dawn at the infamous clubs De School (check out their weekend-er party sessions), Lofi (great parties for the LGBTQI+ community) and Schietklub (popular among the Amsterdam bar and restaurant staff) with their top notch techno and house line ups for a night to remember, albeit a little hazy.
If you're unsure how far you're willing to take the night, then hop on the ferry to Noord and go with the flow. The industrial edge of the north side of the city allows for spontaneity and easy evolution of debauchery. Start with an orange wine at murmur as they close the garage doors and immerse you into a sound cave with their out-of-this-world sound system. After that, cruise over to SkateCafe and enjoy their various rooms, all different in style, but maybe avoid the skate ramp if you've had a few drinks. And if you're really going for it, their neighbour Garage Noord tends to keep the party going well into the early morn…
Take note, ticketed events have become more popular in the last years but you can often buy on the night itself. Check out the Instagram or website of each spot to stay in the loop. Friday and Saturday are the most popular days to party.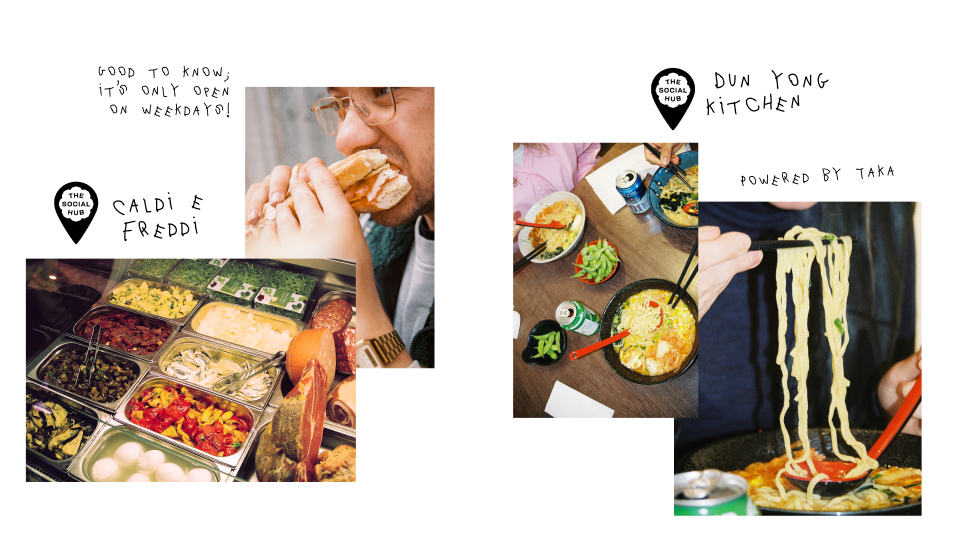 A culinary patchwork of hotspots
The way to really get to know a city is through the stomach and to immerse oneself in the culinary delights. Dutch cuisine itself may not have a name for itself, but it rules the leaderboard when it comes to 'frituur'. Fried goods such as bitterballen (vegan bitterballen are widely available too), kaastengels, vlammetjes and fries are synonymous with a 'borrel' (drink) or 'biertje' (beer) and the Jordaan is the place to be. Try de Blaffende Vis, Oranjerie or Cafe P96.
Craft breweries and natural wine have become a staple of the city's landscape, with almost every new establishment opening up serving a range of biodynamic, fermented and fairly produced beverages. Twee Prinsen, Kikkie, Binnenvisser, Bar Centraal, Benelux Wine Co. and Bottleshop to name a few, but we could go on…
The diverse population of nationalities has had profound influence on the food offer, with many spots sharing their culture through food. From humble spots like Taka's Ramen, tucked away in an oriental toko, to family-owned and Mediterranean spirited, Duende Dos to Kebec Corner's square shaped pizzas in a shipping yard setting, you'll discover the authentic spots off the beaten track.
Reservations are definitely recommended to secure a spot, but there are enough places that leave room for walk-ins.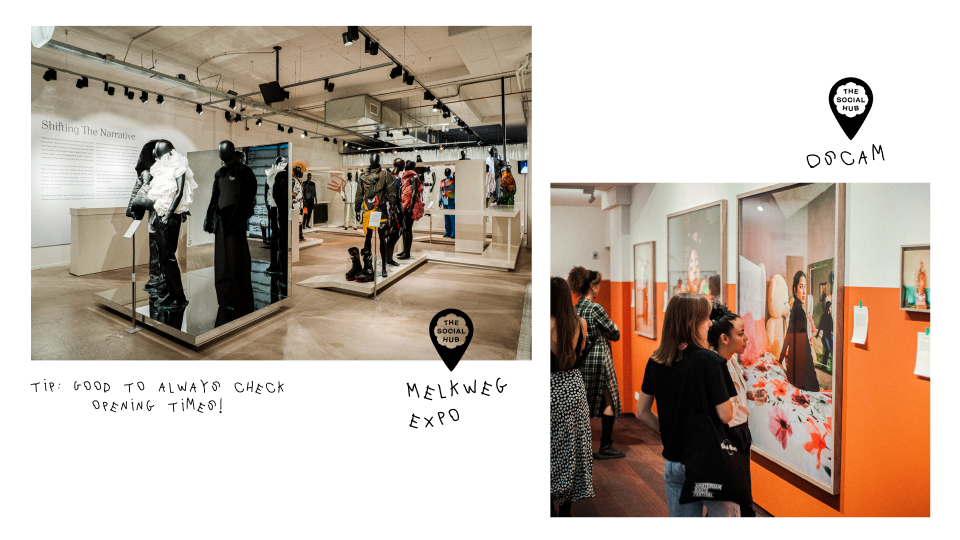 A contemporary city rich in heritage
The Dutch have mastered art for centuries with some of the world's most celebrated and respected artists coming from The Netherlands. So it's no wonder that the city of Amsterdam has the highest museum density in the world to host all the cherished works of art. This is one aspect where you can allow yourself to be in full tourist mode, stand in the queues and take all the pictures because this is significant heritage you're soaking up. At Museumplein, you can find the Rijksmuseum, Van Gogh Museum, Stedelijk Museum and Moco Museum where reservations come in handy to skip the queues. If you're planning on multiple museums, you might want to look into an I Amsterdam City Card which gives discounts and access, as well as handy links to public transport.
But now to the non-touristy things to do while still getting a culture fix: cross the IJ river and visit the NXT museum for an immersive digital/interactive experience or visit the huge former bullet factory Het Hem for monumental exhibitions of artists of international fame. For a more day-to-day exposure to culture, head to any one of the markets in the city, like Waterlooplein (open everyday), or Noordermarkt (Monday and Saturday). Here you can find vintage clothing, antiques, old literature, as well as friendly stall owners who will always share a tale or two.
Community vibe spots like Kriterion (student run international art house), or the Melkweg Expo (a visual arts space for emerging talents), are also unusual spots to get to know how the locals live and breathe the city's culture.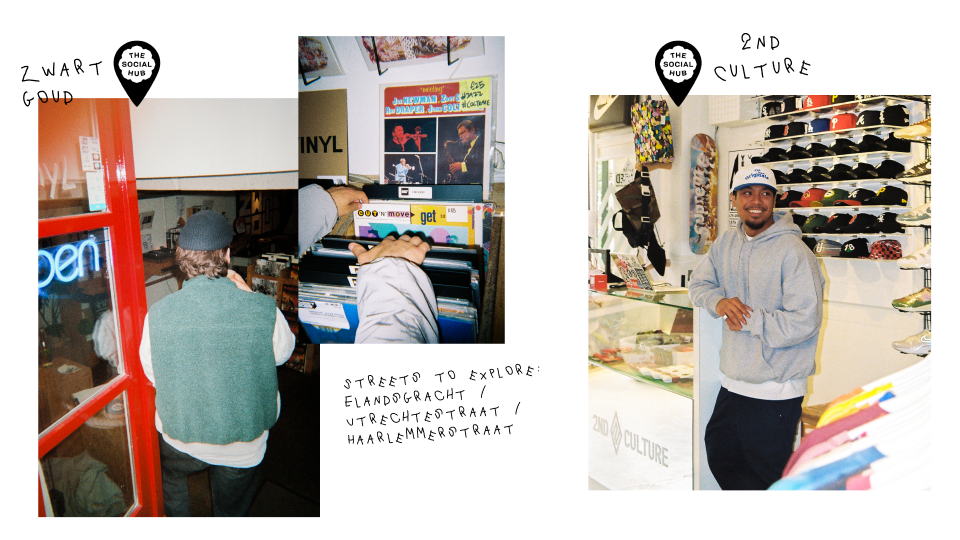 Retail therapy for all styles and preferences
While Amsterdam does provide a full high-street (Kalverstraat) of international fast fashion brands and an entire quartier dedicated to high end luxury (Van Baerlestraat, PC Hooftstraat), what really makes the retail scene special is the amount of independent stores and concept spaces.
The Nine Streets (Negen Straatjes) are narrow in size but definitely not in offering. Browse through mid-to-higher end brands, vintage shops, plus independent boutiques (favourites include exclusive brands at Velour, streetwear and sneakers at Baskèts and premium denim at Tenue de Nîmes). Conscious and ethical shops such as Verse and Suhka also hold their own in the retail scene. One step further on the sustainability ladder are the curated vintage shops popping up. (IM)Material, Enso Vintage, NHO Girl do the leg work for a more elevated experience, while flea markets, the monthly IJ Hallen and daily Waterlooplein, are for those with more patience to sift through.
Of course, clothing isn't the only treasure to discover in Amsterdam. Speciality coffee shops do more than just an oat milk flat white. Many of them tap into other avenues of creativity, such as Zwart Gold with its huge record collection, or Good Beans with branded merch and occasional artworks. If you're looking for a present to take back home, head to Benelux Wine Co. This charming bottleshop carries wines and beers from the Benelux region, all within 400km of Amsterdam. On Saturdays, bottles tend to be opened for sampling and adding to a gezellig atmosphere. And for a unique experience, book out their tasting room at the back.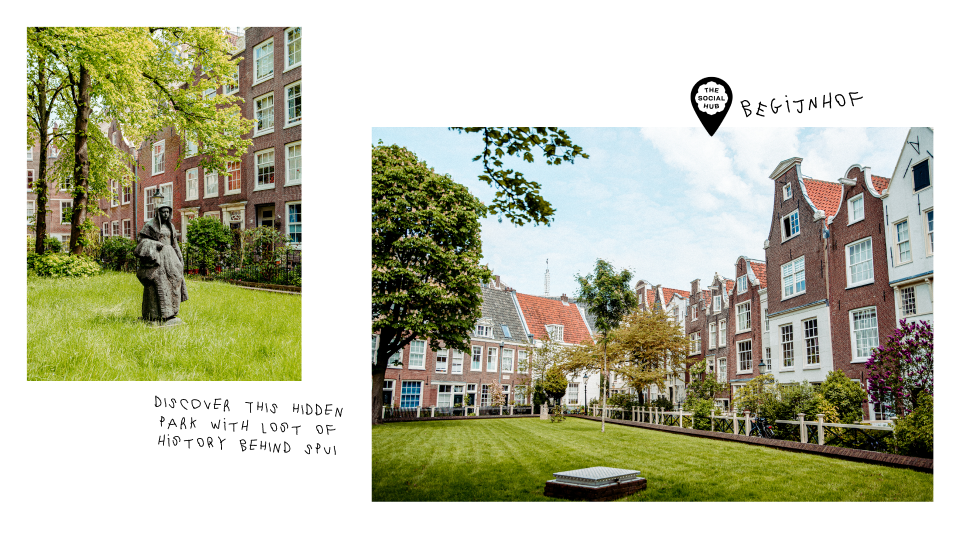 Enjoy the urban greenery & freedom of people
The Dutch take pride in red, white, blue; they celebrate wearing orange - but their true love is green. Amsterdam, being so densely populated, is nothing without its parks. Especially in summer, parks are a much-loved escape for locals, who use the green areas for more occasions than you could think possible. Birthday parties, sizzling barbecues, outdoor gym classes, jamming musicians, first dates and break-ups, daytime festivals that continue into the night… You name it, it's probably happening at one of the 30 parks.
Vondelpark is the largest and most beautifully manicured, but always busy and the most popular with tourists. Westerpark is very diverse in its offer, with a lot of cultural establishments (a cinema and a concert hall for example), as well as bars and places to eat. Oosterpark hosts cultural festivals in the summer such as Keti Koti and Roots festival, and has a number of important sculptures and monuments to acknowledge the slave history. Tip, pay a visit to the Tropenmuseum in Oosterpark. Extra tip; find the really tucked away oases in our downloadable guide.
When the weather heats up, locals flock to Stenen Hoofd, Marineterrein or Entrepotdok for a moment to cool down. Take a towel, some wine and a picnic, and you've got yourself a gorgeous summer evening.
Want to know all the secret hotspots?

If all your daydreams now feature you cruising around on a bike, let us help make that a reality. Our Summer Deal gives you a 15% saving when you stay at one of our hubs in Amsterdam, including breakfast, bike hire and a late check out.
In the meantime, dive even deeper into the hidden gems of Amsterdam with our downloadable guide. Enjoy the personalised recommendations from The Social Hub community who know the city's nooks and crannies better than anyone.