Blog
/
An expat students' guide to Berlin
An expat students' guide to Berlin
Considering studying abroad in Berlin? Here's our student guide to the city, with tips on where to stay, how to settle in, and what to experience!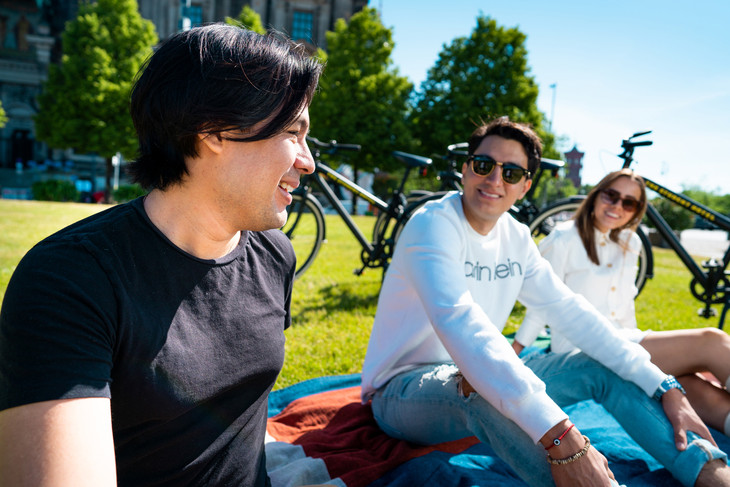 Berlin might be a city rich in history, but it's definitely young at heart. With an eclectic creative scene, a vibrant multicultural community, and a year-round calendar of events – not to mention a legendary party scene – it's no wonder Berlin is such a popular destination for expat students.
So, if you're considering studying abroad in Berlin, you've come to the right place. Here is your ultimate guide to living in Berlin as a student, with tips from expat students that currently call this awesome city home.
1. Firstly, why Berlin?
It's not only Berlin's thriving social scene that makes it such an appealing place to students, it's also a great city to make business connections to grow professionally after your studies. For student Andrés, who came from Ecuador to study human-computer interaction at Technische Universität Berlin, it's the combination of culture, business opportunities and social life that make the city so special. "I find Berlin a chill, international environment with a mix of history, party and start-up scene," he says. "It's a cool place to spend some time during your life."
2. Registering in Berlin and making the move
If you've already done some research on moving to Berlin, chances are you've heard of the registration process (Anmeldung). You aren't considered as an official resident in the city until you register, and the time it takes to get your paperwork completed and processed can take weeks. But don't let that deter you! Ask officials as many questions as you need to and join some Facebook Groups or online forums where you can ask about the experiences of students that have done it before.
Be as organised as you can before your arrival to make settling in as smooth and speedy as possible. That means having all the paperwork ready to go for registration, as well as a clear budget in mind to guide your search for a place to live. Many student expats choose to go through the rental market as solo tenants or as part of a house-share to save money. Whatever you decide to do, it's a good idea to research neighbourhoods and attractions before you arrive so you have an idea of places that appeal to your vibe.
3. Making friends
Although Berlin is a haven for students and young creatives, it can feel daunting to make new friends in a new city. HWR Berlin marketing student Fleur says that the important thing to remember is that there are many students who are or have been in the same position, so you'll find that international students and locals alike are generally super friendly and happy to help you out. "Berlin is the least German-speaking city you will visit in the country, this makes it very easy to connect with the people who live here and to make a lot of new friends," she says. "There are a lot of internationals who would like to meet new people and make new friends. My top tip is to join a Facebook group – sounds cringe at first, but is definitely a good way to meet new people."
Diego, a student at Gisma Business School, arrived in Berlin from Mexico with friends, and he loves the fact that his circle has expanded (with a little help from The Social Hub!) "We started as a group of five and now we are a group of almost 12! We've met people from all over the world," he explains. "When you live at a place like The Social Hub, it's way easier to meet new people and hang out with them."