Blog
/
The Top 20 Careers for Digital Nomads
The Best Careers for Digital Nomads
Digital Nomads
Travel & Exploration
Dreaming of waving goodbye to the confines of your office and hello to the big wide world? The digital nomad life could be everything you're looking for. But you've got to pick a career that lets you work remotely while fulfilling your wanderlust – and with so many options, that can be tricky. Luckily for you, our guide to the best careers for digital nomads is here to help.
The Best Careers for Digital Nomads
With remote work looking like it's very much here to stay, more people than ever are breaking free from the 9-to-5 office life to head out on a global adventure, their laptops by their sides.
However, not every job can be done remotely. So if you dream of embracing the digital nomad lifestyle with open arms, it's important to pick a career that lets you make that dream a reality.
To help you get started on this journey, we've narrowed down the search by creating a list of the top 20 careers for digital nomads, based on the amount of remote jobs available for each. We also share some handy tips for kickstarting your new life as a remote-working wanderer.
Here are some of our key findings at a glance:
Technology careers offer the most options for digital nomads, with IT Data Analyst, Software Tester and Web developer ranking among the top five
Careers in marketing, finance and the creative industries also feature among the top 20 jobs for digital nomads
The benefits of being a digital nomad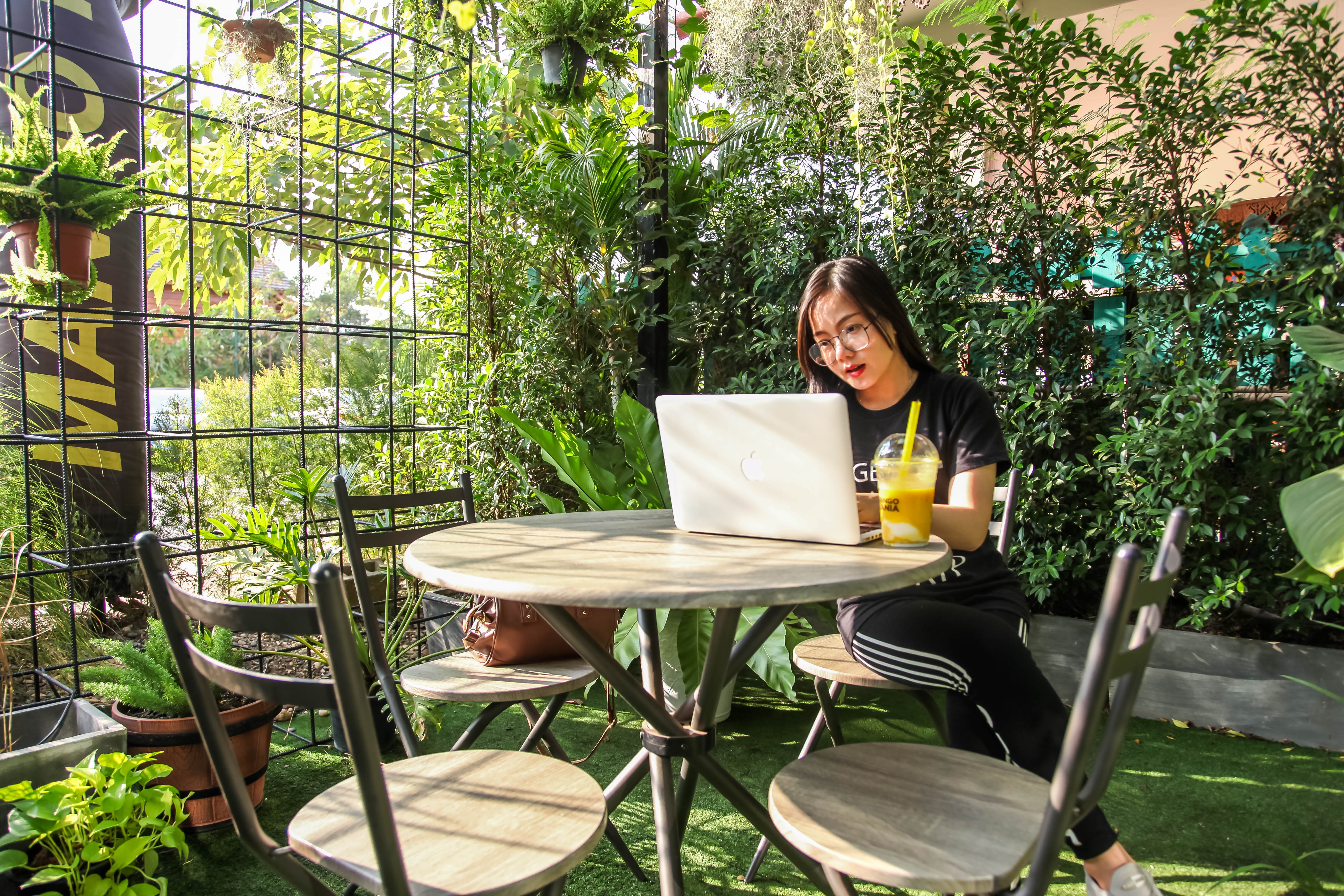 1. Endless exploration

Picture this: working from a bustling café in Paris one month, and setting up your office overlooking a serene beach in Bali the next. Sounds pretty nice, right?
As a digital nomad, the world becomes your workplace, and each new destination becomes an opportunity for cultural immersion and unforgettable experiences. Say goodbye to boring routines and embrace a life filled with adventure, where every day holds the promise of discovering something extraordinary!
2. Flexibility and freedom

If you value flexibility and freedom, then the digital nomad lifestyle is for you. No more confined cubicles or rigid schedules – you have the power to design your work-life balance according to your preferences.
Need a break in the middle of the day to explore a local market or take a rejuvenating hike? Go ahead! With remote work, you can create a schedule that aligns with your productivity peaks and personal interests.
3. Building a global network

Being a digital nomad opens the door to an incredible opportunity for networking on a global scale. You'll meet fascinating individuals from diverse backgrounds, cultures, and professional fields. Through coworking spaces, networking events, and online communities, you can connect with like-minded individuals who share your passion for remote work and travel.
If that sounds like something you'd be interested in, check out our guide to the best European cities for coworking. From Barcelona to Amsterdam, we've got your next coworking adventure covered!
The top 20 careers for digital nomads
Although not every job can be done remotely, there are plenty – across all kinds of industries – that can. To reveal which are the best for digital nomads, we ranked over 80 careers by the percentage of current job listings offering remote work.
So if you're looking to find the perfect remote job that lets you achieve the ideal work-travel balance, check out our list of the top 20 careers for digital nomads below!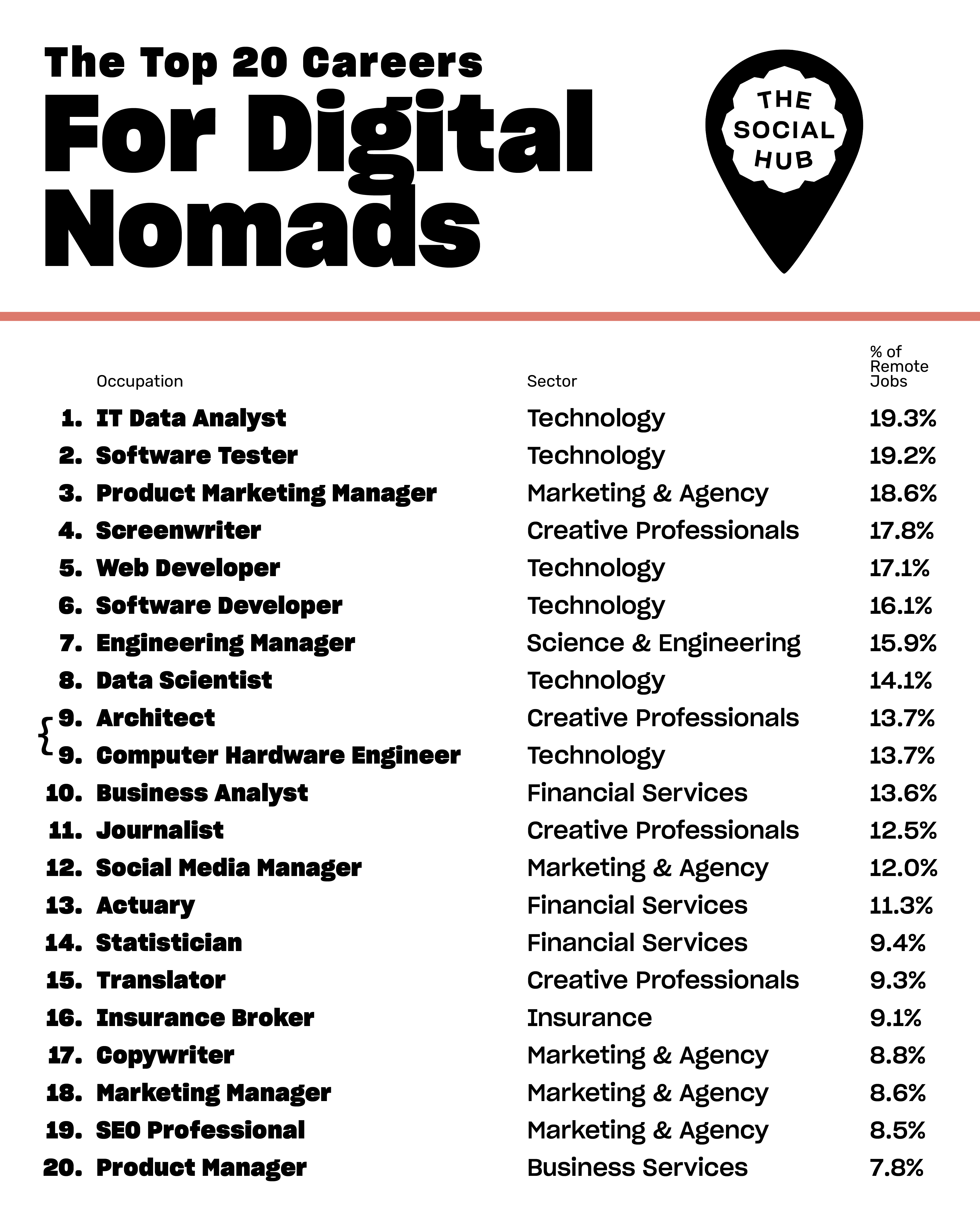 Technology
The technology industry is always growing and evolving, so it's no surprise it's keeping up with the trend of remote work. We found a variety of jobs in tech that can be done from anywhere your travels take you – including IT Data Analyst, Software Tester and Web Developer, which all appear among the top five careers for digital nomads.
Technology jobs are also known to come with lucrative salaries. Flexible working AND a big enough paycheck to fund your globe-trotting adventures? We're sold.
Marketing
Marketing careers are a match made in heaven for digital nomads. Our top 20 list includes five marketing jobs that offer great remote work opportunities: Product Marketing Manager, Social Media Manager, Copywriter, Marketing Manager and SEO Professional.
As a nomadic marketer, you can explore social media, content creation, and digital advertising while travelling anywhere that takes your fancy. Plus, marketing comes with a ton of exciting networking opportunities around the world, from industry conferences to collaborating with global clients!
Creative
Whether you're crafting captivating screenplays, reporting on diverse topics, or bridging cultures through translation, working in the creative industries allows you to take on exciting projects from anywhere in the world.
Screenwriter, Architect, Journalist, and Translator are all included in our line-up, offering fantastic remote work opportunities. One thing's for sure: as a digital nomad working in any of these careers while travelling the world, you'll never be short on creative inspiration!
How to become a digital nomad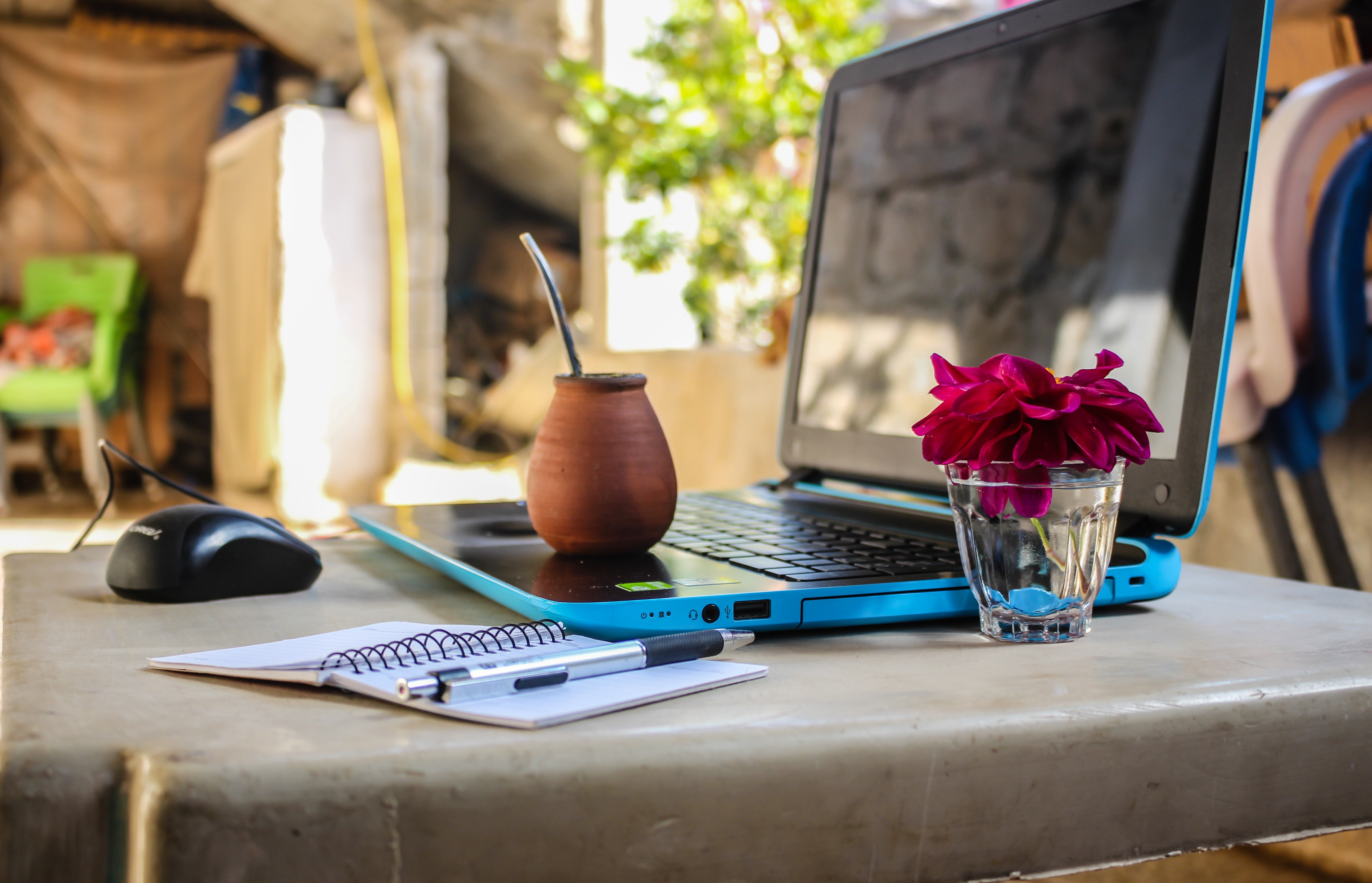 Sold on the digital nomad lifestyle but not sure how to make it happen for you? We're here to help. Here are some useful tips for getting started on your global journey.
1. Define your skills
Knowing your skills is the first step of your digital nomad journey. It's important to identify what you're good at and what you enjoy doing. Are you a coding expert, a genius wordsmith, or a social media marvel?
Knowing what you're good at will let you attract remote work opportunities tailored to your strengths, so you can put those skills to work while on the go.
2. Find remote work opportunities
As a digital nomad, your mission is to unearth the golden opportunities that let you work from anywhere in the world, from a beautiful beach hut to a bustling café in a far-flung city.
Harness the power of the internet, polish your LinkedIn profile, and venture into the realm of remote job boards and freelance platforms.
3. Join a digital nomad community
Going solo as a digital nomad is like sipping a piña colada without the little umbrella – it's just not the same. Finding a digital nomad community – either online or in person – will let you share experiences with like-minded people who understand the joys and challenges of your wandering lifestyle.
They can inspire you with stories of their adventures, recommend hidden gems for coworking spaces, and provide invaluable advice that'll save you from making rookie mistakes.
4. Save and budget for your transition
Before you set off into the sunset, it's essential to save and budget for your transition into the world of digital nomadism. Consider creating a budget spreadsheet that covers your expenses, from accommodation and travel costs to coworking spaces and that irresistible local delicacy you can't resist.
By keeping a close eye on your spending, you'll be ready to enjoy the freedom of being a financially savvy wanderer.
5. Plan your travel and work arrangements
You've got your laptop, a burning desire for adventure, and a passport ready to fill with stamps. Now it's time to plan the logistics of your nomadic life.
A little planning goes a long way in ensuring smooth sailing (or flying) throughout your digital nomad journey. There will be a lot of details to work out depending on where you're jetting off to – including things like work visas and tax forms, which can get a little complicated. Make sure you leave yourself plenty of time to sort these things out, so you don't have to worry about them later on in your journey.
That being said, you don't have to plan your whole adventure down to the very last detail. Sometimes it's better to let serendipity guide you – just don't forget to pack your laptop!
---
Don't miss out on our offers!
We'd love to keep you up-to-date with all our special offers and exciting news. Enter your email below to subscribe to our newsletter.