Blog
/
Best 13 winter markets in Europe in 2022
Best 13 winter markets in Europe in 2022
Discover our top choices for the best Winter markets in Europe in 2022 and what makes them so unique. You can choose from magical markets in Cologne, Tallinn, Prague, Salzburg and more. What will be your destination this year?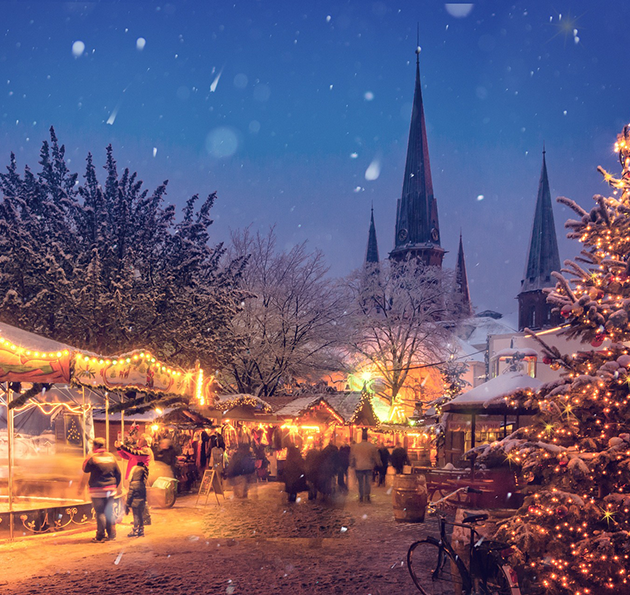 With the worst of the pandemic behind us, the world is gathering this holiday season once again. Eager to share our holiday cheer, many of us want to not only spend that time with our friends and family, but experience the joy of winter festivities through other cultures.

Across Europe, there's a rich, storied history of Winter Markets. Known for its heritage of song, hot drinks, (deviously) fattening food, handmade gifts and bright, memorable experiences, these markets feel irresistibly traditional.
But what many people might not realise is that not every city celebrates winter festivities with a traditional-style market. So, we scoured the internet to find the best European cities for Winter Markets 2022. From the traditional German markets we've all heard about to the lesser-known but totally hygge Scandi ones and the gooey, cheesy markets in France, there are a ton of different Winter Market experiences to be had this year.

The hardest part about this list might be choosing just one of the best European cities for Winter Markets for 2022. But, who said you had to limit your celebrations this year, anyways?
Cologne, Germany
Best dates: November 21 to December 23, 2022
What makes it unique: 7 markets across the city
Best known for transforming its cathedral square into a red-roofed holiday village with a giant tree at the centre, Cologne is home to one of the most picturesque Winter markets in all of Europe. But, what many people don't realise is that the entire city turns into a winter wonderland with seven different themed markets.
A couple of our favorites are Nikolausdorf, or Nicholas Village, near the trendy Belgian quarter to sip hot drinks against the backdrop of the historic backdrop of the medieval Hahnentorburg, and the Markt der Engel, or Angel Market, where you can walk hand in hand under star-shaped lights while sipping hot drinks.
Image rights: Dieter Jacobi
Salzburg, Austria
Best dates: November 17, 2022 to January 1, 2023
What makes it unique: Musical celebrations
A short distance away from where the world-famous Christmas song Silent Night was first written and performed (all the way back in 1818), Austria has to be one of the most beautiful and historical places to celebrate the festive season. Come November, the city of Saltzberg already starts embracing Christmas with the song ringing out and 100-stalls popping up across the city's famous squares like Domplatz and Residenzplatz.

Here, you can stroll the markets and grab all the typical winter market goodies like hot cocoa and mulled wine. But, what sets these Austrian markets apart are their beautiful homemade crafts and their musical performances, from choir groups and gospel singers to folk groups and carol singalongs. With such a magical and unique experience like this, it's easy to see why Salzburg is one of the best European cities for Winter Markets 2022.