Blog
/
How to find an internship in Amsterdam
How to find an internship in Amsterdam
From visas to internship types and where to look, we've rounded up everything you need to know before you start your search.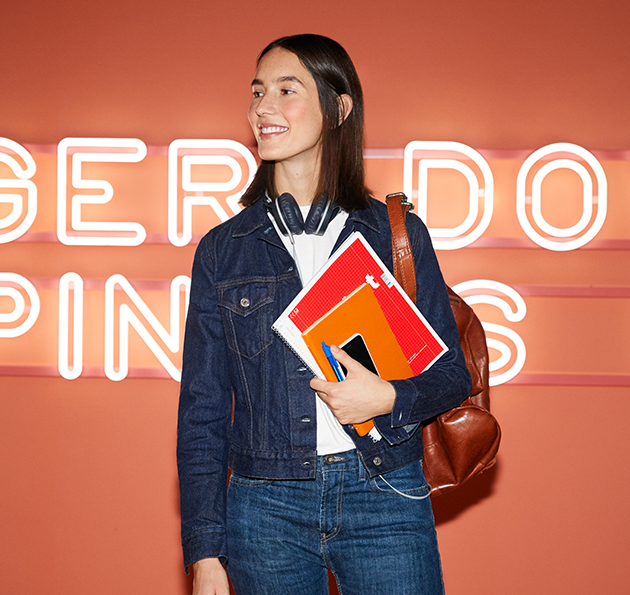 Landing an internship anywhere is tough these days, let alone in one of Europe's most popular and dynamic cities. So, you should find some comfort in the fact that whether you're an Amsterdam local, international student or still abroad, there's kind of a level playing field when it comes to actually landing those coveted, competitive internships.

And in all honestly, it's worth the work and stress you're going to put in to get there. With a bubbling cultural scene, an iconic cityscape and incredible opportunities across an array of industries (and major corporations) — an internship in Amsterdam could truly be the start of an epic career and lifestyle in the Netherlands.
So whether you're looking to apply your theoretical knowledge, develop those professional skills you've been honing, expand your network or finally get your feet wet in your field, Amsterdam has a wide range of internships for you to explore.
To help you realize that dream, we've scoured the 'net for all the information, tools, and resources you need to get there. Let's start with the basics first.
The basics of interning in the Netherlands
Before you start your search on where to find and internship in Amsterdam, you're going to want to familiarize yourself with the kinds of internships that are available.

1. Work-along internships in Amsterdam: this is where you spend a semester working at a company as part of a team learning and gaining experience on the job.
2. Research internships in Amsterdam: this is where you conduct research and write a thesis on a topic that is relevant to the business you're interning for.
3. Post-graduate internships in Amsterdam: sometimes known as traineeships, these are paid internships for recent graduates to gain experience and learn.
In terms of what to expect when it comes to interning in Amsterdam, the work culture in the Netherlands is notoriously informal. While this obviously differs depending on your industry — a law firm will always have a different vibe than a creative studio — it's generally relaxed and there's a very egalitarian culture. That means you won't be fetching coffee Monday through Friday, and you'll usually receive lots of great support from your colleagues as you learn on the job.
When it comes to working hours, these are negotiable. Although, most often, internships are full-time jobs where you're expected to work like a regular employee. These internships can range anywhere from 3-months to a year depending on the company and the kind of internship you're looking for. No better way to learn than jumping in headfirst, right?
However, if you are studying full time, you can negotiate with the company about working fewer hours over a longer period, for example. But that really depends on the company's individual internship structure.
Who can intern in the Netherlands?
Unfortunately, internships in the Netherlands aren't readily available to everyone. So, it's really important to double-check your eligibility and visa status before you start figuring out how to find an internship in Amsterdam.
EU citizens
If you're an EU citizen, getting internships in Amsterdam is pretty straightforward. You not only won't need a permit or any sort of additional documentation, but you get the same rights as you would if you were trying to get any other job within the European Union. You will need to look into Dutch health insurance, though, once you get accepted and move.
Non-EU citizens
However if you're not an EU citizen, things get a little tricky. But don't fret, it's not impossible! Essentially if your internship is part of your studies and you're a student already in the Netherlands, you won't need to secure a work permit and you can intern under your student visa. But if your internship is not part of your degree program, you're not enrolled at a Dutch university or you're looking for a graduate internship, you're going to have to apply for a work permit. So, keep that in mind as you navigate this process.
There are some great perks to Dutch internships, too
Besides the fact you get to live and work in Amsterdam, there are some serious perks to interning in the Netherlands that you're going to appreciate.
Work-life balance: The Dutch value their work-life balance and it shows. You'll notice everyone from the top of the company to the bottom takes their annual leave and prioritizes life outside of work. In the Netherlands, it's also quite typical that employees work 35 hours a week instead of the standard 40. Parents even take 'mamadagen' and 'papadagen' which are days off in the week to care for the kids. So as an intern, you can expect to learn a lot while still having time to explore and enjoy your new city.
Office comradery: In many Dutch offices, it's typical to have lunch offered in-house and eat with your colleagues around the table. This is a great way to meet people and form deeper connections with your colleagues. Plus on Friday's, most companies also host a 'borrel' which is essentially just happy hour with beers and bites. You're going to love it!

English is widely used: Because Amsterdam is home to so many international corporations and students, almost everyone you speak to will know English. While there are, of course, internships offered exclusively in Dutch, there are plenty of internships in Amsterdam with a vibrant, international community who will have no problem communicating with you in English.

You might get paid: While it's not required for companies to offer an internship allowance, many Dutch companies will offer some form of stipend. Usually ranging from €100-500, this can be used for everything from transport costs to your internship accommodation and groceries.