Blog
/
Top 10 destinations in Europe for digital nomads
Top 10 destinations in Europe for digital nomads
Your guide to Europe's best places for working nomads.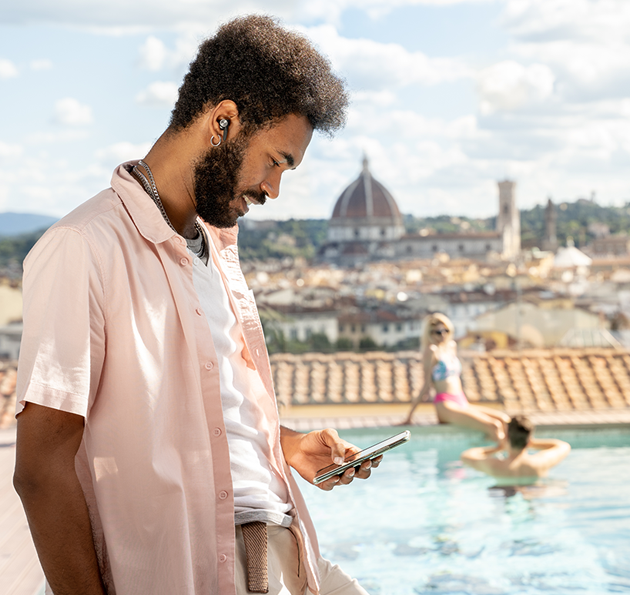 The last 18 months have seen some drastic social change, particularly in the way we work. With worldwide lockdowns, many of us have been adapting to remote working, doing away with the 9 to 5 in favour of more flexible arrangements. The good news is that remote working is likely here to stay, so being in the digital office while travelling is a very real new-world possibility. Indeed, searches for "digital nomad" on Google have increased exponentially over the past two years.
When looking for a destination to work remotely, Europe is the ideal place to start. With interesting and diverse cities in close proximity and many offering nomad-friendly visas, it's the perfect destination to embark on a part-work, part-travel adventure. If the idea of working from a new city every other month sounds like a dream to you, here's how to get very real on planning where to go and make sure you're always in good company.
How to choose a digital nomad destination
What makes a great digital nomad destination? Where you choose to live while you work depends on a few key factors, including:
Cost of living. You want things to be reasonably priced, so you have the budget spare to do what digital nomads do best: explore!
Fast internet connection. The foundation of successfully working remotely is ensuring you have a speedy connection to your team and all the resources you need, wherever you are. A digital nomad without good internet is like a jockey without a horse.
Travel opportunities. Ideally, the city you choose is somewhere you've never been before, or is well-connected with areas you've always wanted to check out.
Networking opportunities. Digital nomad life can be lonely if you don't know anyone in your new city home. You want to make sure that you're surrounded by plenty of opportunities to network, find your expat community, and fill your days with adventures; whether that means a big restaurant and bar scene, lots of social or sporting clubs, or a vibrant cultural events calendar.
Now we've covered the basics, it's time to look at locations. With so many amazing destinations in Europe, it can be hard to choose one. Luckily, we've done the groundwork for you, researching where the remote-working community is thriving. Here's our pick of the top 10 destinations in Europe for digital nomads based on the most commonly searched places on Google.
1. Portugal
Mediterranean climate, affordable living, and plenty of work and travel opportunities, it's no wonder Portugal's coastal capital city is becoming ever popular among digital nomads. You can work pretty much anywhere in the city, with excellent Wi-Fi in public spaces and cafes, making it easy to take your laptop somewhere new for a couple of hours and a bica (coffee) or two. Visa requirements are straightforward here. If you're outside the Schengen Area you can stay for up to 90 days without a visa. If you want to hang around for longer (we don't blame you!), there is a Temporary Stay visa available for digital nomads for up to a year.
Need a place to live and work in Portugal? The Social Hub is coming to Porto and Lisbon from 2024! Learn more.
2. Ireland
The Emerald Isle is fast becoming a mecca for expat living due to its proximity to the EU and an abundance of tech companies choosing Ireland to base their European HQs. Yes, the cost of living is comparatively higher than European cities, and the cooler climate means Ireland isn't always the first choice for nomadic sunseekers. That said, Ireland offers so much in the way of domestic and international travel opportunities, accessible healthcare for residents, and, of course, a bustling social scene (Guinness, anyone?).
3. Germany
Bordering an impressive 9 countries, Germany is a great place for nomadic workers. Of course, there is plenty to experience within Germany's borders too, especially if you decide to base yourself in the thriving capital. Berlin is renowned for its culture, international community, and strong work opportunities, which makes it a great place for personal and professional growth. While the long-term rental market can get competitive, lots of coworking and co-living options are available for digital nomads – including our own The Social Hub Berlin!
4. Italy
Great nationwide Wi-Fi? Check. Incredible outdoor scenery? Check. Buzzing café and bar scene? Check and check! No European destinations list is complete without mentioning Italia. While the major cities such as Rome and Milan can seem overpriced due to tourism, the cost of living in the likes of Florence and Bologna is comparatively attractive for digital nomads looking for a base in Italy. With great weather year-round, amazing natural landscapes to explore, and incredible food, it's not hard to see why either city is so popular among working nomads.
Our stunning palatial property in Florence serves as a great base to experience the best of Italy, from its food to its amazing beaches, and wine regions. All that, plus an ability to easily connect with other nomads in our community. What more do you need?